wedding dress silhouettes: the nitty- gritty
Picture your wedding day…all your guests are seated, anxiously waiting for you, the bride, to arrive. Suddenly,  you appear at the end of the aisle with the sunlight behind you…
 This first appearance will be very important, and will be very much defined by the silhouette of your wedding dress. So which one will you choose? While we can't answer that question for you, we can provide a list of popular silhouettes to help you decide. The silhouette you choose for your wedding dress can be determined by several factors. 
Body Type: For example, if you are petite, you may feel overwhelmed in a gown with lots of material. 
Movability: For some brides, it's all about comfort and getting down on the dance floor. 
Wedding Theme: The type of wedding you have will also help you find a silhouette that is perfect for you. If you are going for a formal /fairy tale wedding for instance, bring on the drama with a ball gown! 
Anyway- let's dig in!
The silhouette you choose for your wedding dress can be determined by several factors. 
The ball gown wedding dress shape:
This Cinderella-like look is perfect for providing a fairy tale effect if that is your goal. It is characterized by a fitted bodice and a wide, full and voluminous skirt. It is perfect for cinching the waist and it is a style that was worn by the Duchess of Cambridge, Grace Kelly, Jackie O and Princess Diana on their wedding days. Ball gowns have always been extremely popular; this style is the most "classic". It definitely gives brides wearing it a lot of real estate to play with details like beading, appliqués, fabrics and laces. Please see a gorgeous example below, featuring the ballgown we created with our JoSaBi Astrid.
Why we love the ballgown wedding dress shape:
Drama, regal, royal.
The mermaid wedding dress shape:
The mermaid is one of the sexier wedding dress styles, since it is form-fitting in the hips and bodice, flaring only right around the knee. We love it because it shows off all the curves! It gives the illusion of an hourglass figure (or accentuates it), which can be flattering for both slimmer brides, as well as curvier ones – a double-sided win, as detailed in our article on wedding dress shapes by body types! Mermaid styles are great for various wedding themes; that wedding dress silhouette works well for any bride who wants to flaunt her figure. Pro tip: add an elaborated bun and a red lip for a black-tie ceremony; pair with vintage waves for a retro theme, or opt for cascading beachy waves and a sheer train for an outside celebration. See below a classic beaded lace mermaid wedding dress, created for our bride JoSaBi Oumou. 
Why we love the mermaid wedding dress shape:
Dramatic, shows off the body, sexy.
What is a fit and flare wedding dress shape?
Like the mermaid silhouette, the fit and flare is also fitted in the hips and bodice; however, the fit around the hips, derriere and thighs is a bit more forgiving than the skintight mermaid. It is perfect to give the illusion of an hourglass shape but also great to get down on the dance floor! This shape works for all kinds of themes. We suggest playing with the length and sheerness of the sleeves and the train to achieve completely different looks. The fit and flare can substitute for the mermaid for any occasion. It gives a similar effect but allows for a bit more movability. Our bride JoSaBi Nadia was a dream in her fit and flare wedding dress featured in the video below.
Why we love the Fit and Flare wedding dress shape:
Creates an hourglass shape, easier to walk in than the mermaid, sexy.
What is an a-line wedding dress shape?
An A-line is named for the A-shape the skirt creates on the body. A cross between a ball gown and a sheath, it will flare out from the waist, but in a more subdued fashion than that of a ball gown. It is flattering for all body types and can be versatile enough to work with different wedding themes, from super glamorous to beachy. These days, some A-line dress styles feature layers of tulle with overlays of gorgeous lace. Like a ball gown, they help brides achieve a fairy tale look, while however providing ease of movement. Minimalistic A-line dresses are also in vogue, made out of fabrics like gazar or crepe; those may also be a preferred choice for brides who feel overwhelmed by lots of fabric, or who are more in love with clean lines. Our super classic bride Tagèle was the same way, and rocked the classic A line wedding dress below for her wedding. 
Why we love the A-line wedding dress shape:
The most versatile silhouette.
The sheath wedding dress shape:
A sheath dress hugs the body all the way to the hips and then falls straight to the floor. Sheath wedding dresses also often feature a bit of a train that falls around the feet. The sheath silhouette is an effortless look that requires less material than other dresses, making it easier for brides to move around. It is perfect for brides who don't want to be overwhelmed by their gowns, as it offers an elegant, modern and no fuss silhouette. Sheath wedding dresses are the perfect solution for brides who are going for a simpler look. It also suits the ones who want to show off their curves without the drama of a mermaid or a fit and flare silhouette. JoSaBi Joanne rocked the chic and modern sheath wedding dress below for her gorgeous California wedding. 
Why we love the sheath wedding dress shape:
Effortless, modern, minimalistic.
The Detachable (or Removable) wedding dress shape
The detachable wedding dress shape often makes waves in viral Instagram wedding videos. As its name suggests, it is a wedding dress with a detachable element (generally an overskirt) added to the dress for extra length and/or volume. The said detachable element is often removed right before the reception to achieve a different look. That switch also gives the bride more freedom to move. While the most popular interpretation of this style is an open ballgown or A-line – shaped overskirt on top of with a mermaid or sheath dress, the possibilities are honestly endless. Some ball gowns have detachable overskirts, and some brides even add detachable overskirts to jumpsuits for a modern wedding look. Some removable overskirts are also straight-up full skirts (with no opening in the front). We worked with JoSaBi Laurence to create this unique detachable wedding dress below, with rich beading and amazing detailing.
Why we love the detachable wedding dress shape:
2 (or 3!) looks in one.
The Difference: Ballgown vs. A-line Wedding Dress
Two wedding dress silhouettes are often mixed up: the ballgown and the A-line. Both silhouettes are reminiscent of fairy tales, with their voluminous skirts.
However, the main difference between the A line and the ball gown is that the skirt of the A-line gradually flares out from the waist, giving the skirt of the dress an A shape. Ball gown dresses, on the other hand, are fuller over all and start flaring out right at the waist line. They generally have more volume and more pleats, and look more "royal". 
When considering the two options, an A line is a bit more versatile. It can go with many different fabrics and necklines and trains of any length. Ball gown dresses will also go with any length train but when considering necklines, a fitted bodice will always be your best choice.
The formality of the wedding will also be a factor in choosing your silhouette. An A-line dress can be suitable for any type of wedding from a simple backyard setting to a grand church affair. A ball gown dress is best suited for more formal affairs.
While the A-line skirt offers more versatility, you just can't beat the ultimate fairy tale look of the ball gown.
The Difference: Fit-and-flare (trumpet) vs. mermaid Wedding Dress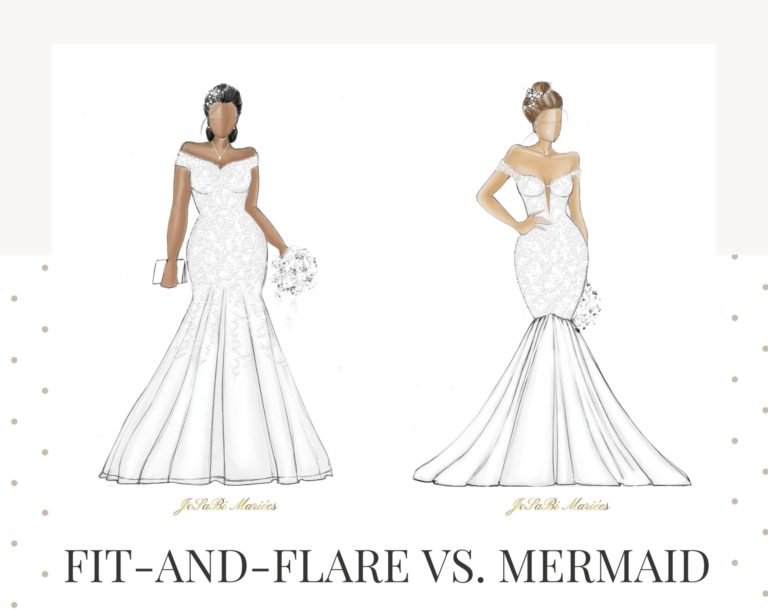 "Fit and Flare" and "Mermaid" are generally used interchangeably in the wedding dress world. Brides often use the "mermaid" term for any fitted dress that flares at the bottom, and that is also the case for most bridal stylists.
Their main difference is however that the mermaid shape is tighter through the bodice, until right above the knee. The dress then flares dramatically. 
The Fit and Flare has a more gentle transition, and gradually flares out (generally less dramatically) at the bottom. Its fit is more relaxed, and it hence gives some va-va-voom without being too constricting. 
When considering both options, the mermaid is generally a lot sexier, as it really clings to the curves. It is hence the right choice for a sultry wedding look, and lends itself well to black tie affairs or a very trendy wedding. The fit and flare is sweeter, and gives a hint of sexiness with a more comfortable fit. It is well suited for more relaxed settings, and lends itself super well to a variety of themes, kind of like the A-line.
What wedding dress silhouette is the best for my body?
We gave you a lot of information above on different kinds of wedding dresses. Now- how to choose, and which ones would be the best one for you?
Good news: we dedicated a whole article to help you find the best wedding dress silhouette for your body! Check it out here!
The silhouette of your wedding dress will make quite an impact on your special day. Which will you choose to make your day extra special? Let us know in the comments! Thanks so much for hanging out with us today, and see you next time for other dress tips! (Check out our dress colors guide in the meantime, if you are so inclined
)
Best,
JoSaBi